Chiesa Delle Madonna Delle Lacrime, Carrara, Italy, 20 August – 21 September 2022
Alex and Drew Rane are exhibiting together for the first time showcasing their new work developed in Carrara. The exhibition explores the conditions of faith and spirituality, drawing on the religious architecture in which the exhibition is set and the personal history of religion in which both artists were raised. "The disused church setting gave us a unique starting point for the work…." said Drew Rane.
"It has been really interesting working alongside my brother in Carrara. I have been based here for several years and he is based in New York. I've been working with sculpture and Drew is a painter, so we we really curious to see how we could respond to and experiment with material together. From the outset, the collaborative process has been really generative for both of us….." said Alex Rane.
The resulting sculptures by Alex Rane were developed in plaster and wax and form part of a series titled Spiriti. "Bits of my unconscious are embedded in the cracks and crevasses and reveal themselves in peculiar ways – conveying ideas, feeling and the indefinable in ways that can't be said in any other way."
The paintings made by Drew Rane are part of an on going series about veils, they are created from plastic, paint and marble dust. Eschewing traditional canvas in favor of translucent plastic these paintings act as a veil to a possibly more spiritual dimension. The marble dust adhered to the plastic acts as an impediment to the translucency of the plastic grounding it to a more earthly plane. Together, with the sculptures, the visitors will sense an uneasy calm.
This is new work being exhibited for the first time publicly and is a departure from the typical styles and materials of both artists. The monochromatic works feed off each other as the warm, soft beeswax melts around the haunting, gaunt figures. The marble dust paintings at once envelop the viewer and allow them to pass through, creating a perfect abstract compliment to the figurative sculptures.
Dates:
August 20th – September 4th
Private View 20 August 19.00-22.00 CET
Address:
Via Carriona, 44, 54033 Carrara MS, Italy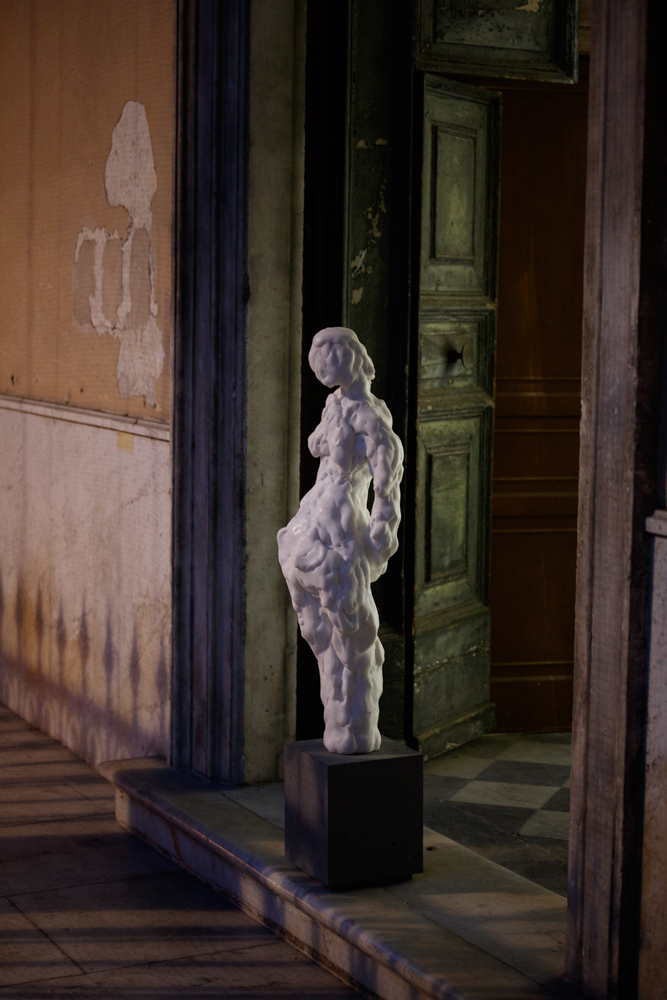 Fellowship of PAFA Show at Gross McCleaf Gallery, Philadelphia, PA, November 3 to 27, 2021
The Fellowship of the Pennsylvania Academy of the Fine Arts is one of the oldest Alumni art nonprofit organizations in America and staffed solely by volunteers, which speaks of the impressive loyalty and dedi- cation of our board and artists.
127 South 16th Street Philadelphia PA
November 3 to 27, 2021
www.grossmccleaf.com 215.665.8138
Gallery 3E – On-line September 22 – November 30, 2020
For the inaugural exhibition of Gallery 3E Drew Rane crafted a digital space using the artsteps platform. Mimicking the layout of him apartment/studio during the early months of the pandemic he set up a digital gallery. He exhibited two differing styles of work, abstract photographic images using analogue processes in a darkroom, and a series of oil paintings that reference the landscape as viewed from an airplane window.
September 22 – November 30, 2020
www.gallery3e.com